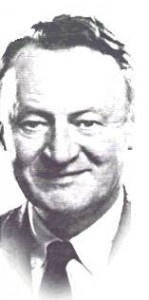 John D. Voelker, who wrote under the pen name Robert Traver, was a lawyer, judge, avid fisherman, and eventual writer from the Upper Peninsula of Michigan.
He's well known for his popular book "Anatomy of a Murder", which was turned into a movie and gave him national acclaim.  But perhaps closer to his heart were his fishing books – collections of stories reflecting on the wonderful pastime.
Robert Traver books:
Voelker's Pond: A Robert Traver Legacy (2003)
More on John Voelker (Robert Traver)
Among many fishermen, the name Robert Traver brings back pleasant memories of his stories about fly fishing for trout in the wilds of Michigan. Other folks would recognize the name from other, more popular works. One thing is for certain: the man who wrote as Robert Traver became a legend in fly fishing literature, but took perhaps the most unique path possible in getting there.
Robert Traver was the pen name of the late author John D. Voelker, former lawyer, Michigan Supreme Court justice, novelist, and above all, dedicated fly fisherman. Born the son of a saloon owner in the rough mining town of Ishpeming, Michigan in 1903, Voelker was one those folks who never strayed far from his boyhood home. He spent his childhood years fishing for trout in Michigan's Upper Peninsula rivers and streams. After law school in northern Michigan and a brief stint practicing law in Chicago, Voelker returned to the Upper Peninsula for good. He was elected Marquette County prosecutor, and was free to roam the waters of northern Michigan to fish in his spare time.
While working as prosecutor, Voelker didn't just fish whenever he got the chance, he also wrote.  He began writing stories about his experiences in the court under the pen name Robert Traver, to avoid the impression that he was writing his stories on "company time" as prosecutor. The success of his first few stories matched Voelker's success as a lawyer in the rural U.P., but after numerous re-elections, he eventually lost at the polls and moved into private practice.
While he didn't know it at the time, Voelker's move to the private sector was a huge break for him as a writer and a lawyer. In 1952, a murder rocked the small town of Big Bay, Michigan, and Voelker was hired as the defense attorney. In a captivating trial, Voelker successfully defended the killer, who was found not guilty by reason of insanity. Again under the pen name Robert Traver, Voelker wrote a book about the trial called "Anatomy of a Murder". The book became a national bestseller, and a feature film of the same name was released in 1959. The film starred James Stewart along with other popular names of the day, and was a huge success. It was filmed on location in Ishpeming, Michigan. "Anatomy" propelled the Traver name into the national spotlight.
In 1957, Voelker was appointed as a judge on the Michigan Supreme Court. After three years and over a hundred opinions, he decided it was time to retire and focus on fishing and writing. In John's own words, "While other lawyers may write my opinions, they can scarcely write my books". So Voelker wrote and fished.
In total, there were 14 Robert Traver books, and five of those focused on fishing. The two most substantial books were "Trout Madness" (1960) and "Trout Magic" (1974). Both are collections of short essays describing fly fishing in general and Voelker's trout fishing experiences in Michigan waters in particular. In many cases, these were reprinted articles that originally appeared in magazines like Sports Afield, Field & Stream, and Fly Fisherman.
A third book, "Traver on Fishing" (2001) is another collection of Traver stories, many of which were already printed in the two other trout books. "Anatomy of a Fisherman" (1964) is basically a picture book by Voelker. It features many full page photos of Voelker's fishing haunts, fish, gear, and many other elements of the angling experience. While light on words, the pages speak volumes. This book is also where Traver published "Testament of a Fisherman", a 200-word essay that speaks to the heart of every true angler, and answers the age-old question: why do we fish? It ends with the phrase "I fish….not because I regard fishing as being so terribly important but because I suspect that so many of the other concerns of men are equally unimportant – and not nearly so much fun."
Finally, "Voelker's Pond: A Robert Traver Legacy" (2003) is a pictorial similar to "Anatomy of a Fisherman", put together by photographer Ed Wargin and writer James McCullough. The two revisit Voelker's old haunts many years after his passing, and attempt to recapture the essence of what Robert Traver wrote about over those many years.
Whether as Robert Traver or John Voelker, the man truly loved to fish more than anything else in the world. He was a man who had his priorities straight. As he liked to say, "The best time to go fishing is when you can get away." "Anatomy of an Author" is a short video that followed Voelker to some of his fishing haunts a few years before he passed. The interviews caught on film revealed a man who was truly happy to be out in the woods fishing, regardless of any other circumstances in life. You'll learn a lot about Voelker by reading the Robert Traver books and watching interviews with him, but more importantly, you may learn something about yourself.