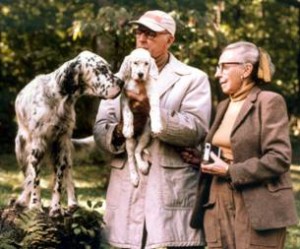 George Bird Evans (1906-1998) was an artist, bird dog breeder, passionate upland game hunter and prolific writer.  After an early career as a magazine artist and a short stint in the military, Evans made a move to West Virginia to be closer to hunting opportunity and breed dogs.  As his sketch art business slowed down, he began to spend more time writing.
After a five part mystery novel series, Evans began to write more nonfiction bird hunting stories, which were collected into a number of books.  He also became a successful breeder, creating a line of grouse dogs that would meet his specific hunting needs and those of other avid hunters.
In total, around 20 George Bird Evans books on hunting made it to print.  He is well remembered in the bird dog and upland game hunting community.
George Bird Evans outdoor books: