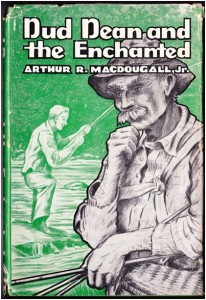 Arthur MacDougall, Jr. has become a legendary figure in Maine sporting fiction through his collections of short stories on fly fishing featuring the famous fictional character and Maine Guide, Dud Dean.
Books by Arthur MacDougall, Jr.



More on Arthur MacDougall, Jr
Dud Dean was, as they say, the quintessential Maine Guide. An honest man, expert woodsman, and captivating storyteller, Dean captured the hearts and minds of outdoor enthusiasts throughout the country for decades beginning in the 1930's. First appearing in Field & Stream magazine and later compiled in several published books, the Dud Dean stories were the brainchild of Arthur R. Macdougall, Jr., a preacher and trout fisherman who lived in the valley of the upper Kennebec River in Maine.
Macdougall was born the son of a carpenter-turned-preacher in Enfield, Maine in 1896. From the introduction to the book "Remembering Dud Dean", a collection of Dud Dean stories compiled by his son Walter, we find that Macdougall experienced a short childhood marked by numerous moves and plenty of hard work. Though he had to grow up fast, he was acquainted early on with two of his primary interests: trout fishing and literature, both of which would serve him well in the future.
After time spent overseas during World War I and a subsequent education at the theological seminary in Bangor, Maine, Macdougall was called to the ministry to preach at a church in Bingham in 1923. Soon thereafter, he began to write. It seems as though things all began to come together there, on the banks of the Kennebec River so famed for its trout and salmon fishing, and the fictional Dud Dean sprang to life.
Macdougall had been a writer from early on. We see this in several early letters and poems about the outdoors written to magazines like Fur-Fish-Game and Boys' Life. But it was his continued study and practice of the art of storytelling that elevated the Dud Dean stories to the next level. According to his son Walter, Macdougall wrote these stories in his study camp, a small cabin on the shore of Wyman Lake.
Mak, as Macdougall was known by his friends, was a constant presence in the Dud Dean stories and told them in the first person. In typical fashion, he and Dud would often be out on some trout water, or headed that way, and Dud would get to telling stories. Dud was an incredible story teller, but not because he stretched the truth. On the contrary, Dud's honesty was refreshing. It was the way he described the setting and the people in his stories, in the unexpected clarity of his somewhat broken Maine dialect, that made them so appealing.
In any Dud Dean tale, Macdougall had the uncanny ability to really make you feel like you were there, in the Maine woods, walking alongside Dud, Mak, and their companions. In addition, the era in which these stories were based adds even more appeal. Reaches of the Kennebec River, area streams, lakes and ponds were described in a time when roads, houses, dams and other signs of encroaching civilization were much less pronounced. Most places required a train ride or long walk from Bingham for a day's fishing. Even though cars began to arrive on the local scene, roads on which to drive them were scarce. Waterways were still a major means of transportation, including the shipment of millions of logs downriver to the mills. And, at least in the Dud Dean stories, the fishing was much, much better.
Still, Macdougall's Dud Dean stories have so much more than just the appeal of relatively untouched woods and waters and stories of big fish. It is an appeal that captivated readers throughout the country when the stories were first published. Each of the Dud Dean stories contains in it a unique sense of place and people. Characteristics found in the personality of Dud Dean, and the surrounding cast of characters in the stories, are real. They represent traits of people we all have known, and the interaction between these characters, as described by Dud, is truly genuine. As his son Walter said, "People constitute Dud's chief interest. Well, people and trout fishing, for as Dud tells us in his stories, it's hard to separate the two".
In all, Macdougall wrote a total of fifty-six Dud Dean stories, a book of poems celebrating life in Maine, and another book dedicated to trout fishing.