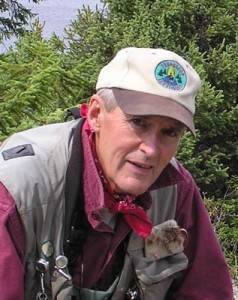 V. Paul Reynolds is a long time outdoorsman, accomplished outdoor writer and editor of the Northwoods Sporting Journal, the largest hunting and fishing publication in the northeast U.S.  Reynolds is one of the most talented outdoor writers in the northeast, and his wisdom and insight is critical to shaping the way folks in Maine and beyond view the outdoor sports.
As editor of the Northwoods Sporting Journal, Reynolds pulls together the work of dozens of writers into a monthly publication focused on the outdoors in New England, but reaches a readership far beyond the northeast.
Reynolds is an avid hunter and fisherman, and he's gathered together some of his best writing into three books: "A Maine Deer Hunter's Logbook", "The Maine Angler's Logbook" and "Backtrack".
V. Paul Reynolds books:
A Maine Deer Hunter's Logbook
The Maine Angler's Logbook