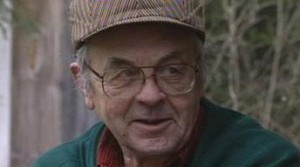 Gerald E. Lewis was a locally popular Maine writer of outdoor stories.  A Mainer through and through, Lewis was a school teacher and wrote his stories on the side.  His humor and ability to tell a good old fashioned Maine outdoor tale resulted in a popular following of readers.  Lewis wrote only four books: two were collections of outdoor stories, one a book on small time farming in Maine, and one on the downeast Maine vernacular.
Gerald E. Lewis books:
More on Gerald E. Lewis
Maine is full of talented outdoor writers, past and present, but few represent the state quite like Gerald E. Lewis did. Best known for his Bangor Daily News column chronicling life on a Maine farm, short stories on hunting and fishing, and a humorous guide to the Maine vernacular, it's hard to believe that writing was not Lewis' primary occupation. He was a downeast boy, born in Boothbay Harbor in 1929, and a jack of all trades. After working in numerous professions that ranged from picking potatoes to working for the Maine Atlantic Salmon Commission, he got a degree from the University of Maine and began a long career as a high school English teacher.
Throughout his working years as a teacher, Lewis did much more than just teach. He raised a family, started a farm, and most importantly to followers of Maine outdoor literature, he wrote. In the 1960's, Lewis began writing a column that ran in several small weekly newspapers entitled The Old Feller. After this came a regular column in the Bangor Daily News in the 1970's called Up Here in Maine, which was based on his life and adventures on the family farm in rural Garland. The column led to a 1974 book of the same title, Lewis' first ever. It is a large collection of short essays that range in topic from firewood to maple syrup to county fairs, and is a quick but pleasantly interesting read.
In 1978 came my favorite Gerald E. Lewis book, My Big Buck, which was a collection of short stories on hunting and fishing in Maine. I first stumbled onto the book in the Maine section of my high school library, and it didn't take long to get hooked. Part fact, part fiction, the stories made study halls and long bus rides much more bearable for an imaginative high school kid who could think of nothing else but the outdoors. A search for more uncovered So Long, Scout, a similar collection of outdoor stories published in 1988.
The fourteen stories contained in My Big Buck and So Long Scout are, in my opinion, the best work of Gerald E. Lewis, and some of the finest crafted hunting and fishing tales in the history of the genre. Lewis grew up reading the Dud Dean stories written by the legendary Arthur MacDougall, Jr., whose works appear to have heavily influenced his writing. Maine writer John Gould was also a strong influence.
Telling his tales in the first person, Lewis' fictionalized adventures in these two books were played out by he and his friend Eben, an older, more experienced woodsman. Many of the stories were set in Lewis' decades-old northwoods sanctuary: his camp in Howe Brook, T8R4, northern Maine. The tales usually involved Lewis getting away from work and the farm long enough to make the trip with Eben, whose character was based on a real-life friend and resident of Howe Brook. The two woodsmen would find adventure wherever they went, but also took time to stop and enjoy their surroundings and the beauty of the outdoors. The stories were clearly written, thorough but concise, and contained plenty of engaging dialogue. The only drawback to the collection of stories in these two books is that there aren't more of them.
Lewis' most widely circulated book, How To Talk Yankee, is not a book so much as a humorous guide to the language spoken by natives of the northeast, of which he was one. This self-described "comic book" contains many of the words that are unique to northern New England, along with funny phrases and sayings to help explain their meaning. It's a short, light-hearted book that's worth adding to any collection.
Gerald E. Lewis passed away in 2001, but his memory lives on through his writing. His four books can be found at the major online book stores, as well as many Maine used book stores. His Up Here in Maine column entries, many of which are not reprinted in the book, can be found by doing an online search of the Bangor Daily News archives. I'm sure a search for old copies of the Boothbay Register and other area newspapers may uncover his The Old Feller column as well.
Finally, Maine PBS did an interview with Lewis shortly before his death in their series "A Good Read", which featured notable Maine writers. The full interview can be seen in video form online – simply do an internet search for "Gerald Lewis A Good Read", or click here. It provides fascinating insight into Lewis as both a person and a writer. Lewis reads passages from his stories, shows us his camp in Howe Brook, and reflects on his childhood and his literary career. One thing that struck me while watching the interview was the regret Lewis expressed of not having produced more as a writer. He said he "lost the fire in my belly for a while", but appeared to have some of that fire back, as he mentioned a new book, Back Trails and ideas for a novel. Sadly, that was not to be.