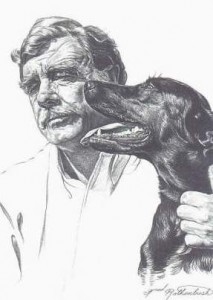 Gene A. Hill (1928-1997) was considered by many to be one of the best outdoor writers of his time. Hill grew up in New Jersey, graduated from Harvard, and worked as an advertising copywriter for several agencies.
Hill always had an interest in the outdoors, and began an outdoor writing career by moonlighting as an outdoors columnist for several magazines, including Guns & Ammo and Sports Afield.
Eventually, Hill took the plunge and became a full time columnist and associate editor of Field & Stream magazine. He also served as executive editor of Sports Afield magazine for years.
Gene Hill is known for two very popular outdoor columns: "Tail Feathers", written in Sports Afield, and "Hill Country", written in Field & Stream. Gene's writing was unique. His pieces were typically short and to the point. He was humorous without trying too hard to be so. Hill always disliked the title "outdoor writer". For all his notoriety, the man was very humble. He had a unique ability to understand and describe the relationship between a man and his hunting dog. He also had a weakness for the finer things in life, including fine shotguns, beautiful scenery, and a glass of good bourbon. By all accounts, Hill was remembered as a great writer, and his books are among the most popular in outdoor sporting literature today.

Gene Hill books: