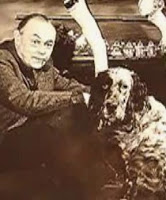 Corey Ford (1902-1969) was a well known outdoor writer with a particular love for upland hunting and bird dogs.  Ford wrote what many consider the best outdoor short story of all time – "The Road to Tinkhamtown", about a dying man dreaming about one last hunt with his bird dog in an old haunt.  Ford published more than 500 stories and 30 books on many different subjects.
In the outdoor world, Ford wrote a monthly column for Field & Stream magazine titled "The Lower Forty Hunting, Shooting and Inside Straight Club".  Several outdoor books resulted from these stories, which were based around a fictional group of sportsmen in Hardscrabble, Vermont.
Corey Ford's outdoor books:
Click here to read Corey Ford's famous story, "The Road to Tinkhamtown".