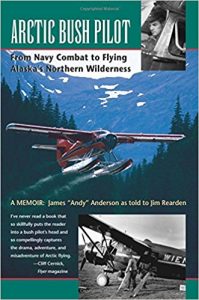 Arctic bush pilots have one of the coolest jobs. No office has better views, and every day is an adventure. They battle the elements in some of the world's most challenging climates, with extreme temperatures and unpredictable weather patterns. They also provide a critical service, connecting remote villages with the outside world and with each other. Such a challenging and meaningful occupation attracts some of the best characters our society has to offer.
Andy Anderson was one of those characters who found himself in the Koyukuk River region of interior Alaska, flying freight and small passengers to and from small villages for 17 years. In his memoir, "Arctic Bush Pilot", outdoor writer Jim Rearden told Andy's story of life and adventure in the skies, woods and waters of the Interior.
Like many young men growing up in the World War II era, James "Andy" Anderson got his flying start in the military. When the war ended, he returned to his parents' farm in Pennsylvania, only to realize he and his father couldn't farm together, and Andy's dream of being a farmer took a backseat. Instead he applied for a job with the Civil Aeronautics Administration in Alaska. He was qualified and it seemed like an adventure. He was soon stationed in Bettles Village, a tiny cluster of cabins and an airfield along the Koyukuk River north of the Arctic Circle.
Without much to do and few means of travel in the Koyukuk region, Anderson soon purchased a small plane and began flying all around the region. A true entrepreneur in a remote setting, Andy turned a blind eye to CAA employee regulations and started doing some commercial flying with his plane. One thing led to another, and he soon found himself a former federal employee and manager of a new air service for Wien Airlines at Bettles Field.
The Wien air service from Bettles Field started from scratch. Wien itself was a small startup family operation, and it was up to Andy to develop the location into a hub for airplane traffic as well as a stopping point for freight and passengers headed for small remote villages along the Koyukuk River. With all of the traffic came the need for accommodations, and Anderson built a roadhouse at the airfield, which provided food, lodging and other services for travelers.
In 17 years of flying the Arctic bush, Andy had some interesting experiences and met a wide range of characters, leaving no shortage of stories to tell. This was around the 1950's, a time of change in the remote villages. Air service and the outboard motor had brought a greater connectivity to the area, but the bulk of the people were still living the old ways. For instance, Eskimos still lived a nomadic life, and a group of them set up camp at Anaktuvuk Pass in the Brooks Range each year to hunt caribou. Andy hauled freight to them, providing some of the modern world to a still traditional culture.
A few old miners still lived alone and prospected in the Koyukuk region when Anderson flew there. These were folks who had moved into the area during the gold rush as young men, and stayed on after everyone else left. By now most were in their 80's and still lived alone in small prospector cabins, either still clinging to the dream of striking it rich, or too resilient, stubborn or perhaps content to move on to anything else. Imagine the stories they could tell.
Andy also flew a variety of other characters and told stories about the most interesting ones. As he marveled, it seemed that areas with the fewest people sometimes attracted the most problems! There were also unique opportunities in this newly opened land, like flying big game hunters and anglers to areas that had never seen a rifle or fishing rod.
Bush flying for years does not come without incident, and Anderson had his fair share of engine troubles, improvised landings and all around difficult situations to deal with. He got through it all and left the Alaska bush with enough memories to last a lifetime.