Ar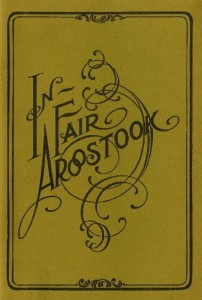 oostook County has long been known throughout the Northeast for its wide open spaces, farming industry and, of course, as a destination for fish and wildlife enthusiasts. Known to many simply as "The County", it's always been an alluring place, but perhaps never more so than a century ago, when the area was being opened up by a new form of transportation – the Bangor & Aroostook Railroad.
You may remember the popular and collectible "In the Maine Woods" guides published by the B&A for decades. In a previous column I wrote about these travel guides and how they promoted the area's hunting and fishing resources, primarily to drive up traffic for the railroad. In a similar fashion, the B&A published "In Fair Aroostook", a guide to Aroostook County encouraging settlement and visitation to this vast northern paradise.
Clarence Pullen wrote "In Fair Aroostook" in 1902, a time when the Bangor & Aroostook Railroad was fairly new in the area and was still extending rail lines throughout northern Maine. It was also a time when young men were leaving Maine to go West in search of gold or farm land. Pullen was shocked at the thought of folks leaving with such great opportunity available in Aroostook – right in their back door. So in nearly 100 pages, he described the greatness of Aroostook County, its people, their economic livelihood, customs, fish and wildlife resources and whatever other topics might persuade folks to come to Aroostook.
If you have any interest in Aroostook County or northern Maine history, this book should prove to be an excellent resource and entertaining read.
As a farmer, I'm fascinated by Pullen's descriptions of farm size, farming practices, crop yield and livestock operations. He also gave specifics on individual farmers and the prices received for their products. When adjusted for inflation, it's quite clear that farming was lucrative in those days, even for a small family operation.
As a fisherman, I perked up when reading about the Fish River Chain, particularly the trout, togue and salmon caught in Eagle and Square lakes and relayed in the book. For instance, just nine years after landlocked salmon were first introduced to the Chain, Pullen reported the capture of two salmon over 16 pounds caught in nets for the fish hatcheries, as well as a 23 pounder caught by an angler in Square Lake.
As one of Acadian and Swedish lineage, as well as a fan of local history, I enjoyed the book's overall account of people and their cultures throughout Aroostook a hundred years ago. It's an important snapshot in time that gives folks some perspective on "The County", then and now.
Though Aroostook County never turned out to be what Clarence Pullen and his friends at the Bangor & Aroostook may have hoped for, it's still a big, thriving landscape with farming, forestry, hunting and fishing at its core, and a hardy stock of rugged folks whose families have been living off the land since before Pullen's time, and are still too stubborn to quit! What's not to like about that?
"In Fair Aroostook" is available for free electronic download at Archive.org or from Google Books. A hard copy can also be purchased by clicking the link below.